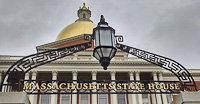 CHAPA Supports S1984 on Beacon Hill
Brenda  Clement, the Executive Director of CHAPA, has written to Speaker Robert DeLeo and to Brian Dempsey, Chairman of the House Committee on Ways and Means, to support passage of S1984.  CHAPA is a a highly respected planning and advocacy organization in the field of housing in Massachusetts.
CHAPA works with housing advocates across the Commonwealth to ensure that everyone in the Commonwealth has a safe, decent, and affordable place to  call home. Unfortunately, residents in subsidized housing, many of which are elderly or disabled, often face bullying. This creates an unhealthy community and living environment. CHAPA supports S1984 and the work of the Stop Bullying Coalition because it will help residents in subsidized housing have safe homes.---Brenda Clement, Executive Director, CHAPA
We are grateful for the support of CHAPA and honored to work with them on behalf of housing issues, including for elderly and disabled residents.
Countdown to End of Legislative Session
We have 7 working days before the session ends, do help get us to the finish line. Act Now! http://stopbullyingcoalition.org/ActNow
Law to Protect Elderly & Disabled from Bullying
On July 8, 2016, our colleague in Missouri, Edie Stephenson, succeeded in her advocacy to create legal protections from  bullying for people living with a disability as well as elderly persons.  
Working closely with her Missouri state representative, Ken Wilson, they put together a coalition to support these efforts. Although Wilson's bill stalled after passage in the House, he managed to insert the same provisions into SB732 which has now been signed by Governor Nixon and will become law on August 28, 2016. (See details of the new law at end.)
I know many think of bullying as a problem faced primarily by young people, but we have seen this become more and more of a problem for our senior community. Our senior population should not have to suffer this kind of abuse and this new law will help make it clear that our state will not tolerate such behavior," ---Wilson, R-Smithville. (1)
We congratulate Edie Stephenson, Representative Ken Wilson, and all the other supporters and legislators who made  this happen in Missouri. Now we must all take encouragement and inspiration from Edie's example as we seek to pass legislation here in Massachusetts. And we will continue to encourage others in what we hope will become a national drive to stop bullying of the elderly and disabled.
We  seniors and our senior loved ones will be legally protected against bullying; abuse, and harassment in multifamily living!! Thank you God! Thank you Representative Ken Wilson and Christina! Thank you to all who worked with Ken, with me; those who simply listened; the advice; the support I received, your prayers and your blessings! Special thank you to Jerry Halberstadt, Coordinator, Stop  Bullying Coalition; for  his  direction, his support, encouragement, recognition; opinions; advice, etc. You were my endurance, my strength Jerry. God bless.---Edie Stephenson
(1)  Representative Ken  Wilson,  Serving the 12th District, Capitol Report, ISSUE 26 July 2016
Countdown to End of Legislative Session
We have seven working days before the session ends, this is your last chance to help get us to the finish line. Now is the time to send an email and/or call in support of S1984. http://stopbullyingcoalition.org/ActNow
Jim Reed, NE Regional HUD Administrator, Asks CHAPA to Convene Bullying Study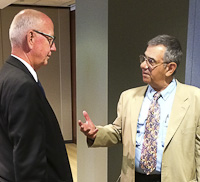 At a breakfast forum hosted by CHAPA, on July 11, 2016, Halberstadt engaged the guest of honor, Jim Reed, the New England Regional Administrator for HUD, in efforts to stop bullying.
Reed spoke of the importance of listening to and serving the needs of the end user (the resident), and described his practice of identifying a problem and then  bringing together the best people to work on solutions. In the discussion period, Halberstadt asked:
The Stop Bullying Coalition advocates on behalf of elderly and disabled residents of multifamily housing—some of your end users. Bullying and harassing create a toxic environment that is costly to landlords and a problem for managers, and harmful to residents. Are you able to help all of the stakeholders to work together to find constructive solutions? We are prepared to contribute.---Jerry Halberstadt
Reed turned to Brenda Clement, the Executive Director of CHAPA, and urged her to assemble a group of stakeholders to address the problem of bullying. We will be part of this effort, slated to begin in the fall.
Countdown to End of Legislative Session
Act Now. This is the time to send an email and/or call in support of S1984. http://stopbullyingcoalition.org/ActNow
Outreach to Independent Living Centers
Mary Margaret Moore, the Executive Director of the Independent Living Center of the North Shore and Cape Ann, has reached out to seek the support for S1984 of her 10 colleagues who are the directors of the statewide network of independent living centers. Mary Margaret has been a steadfast supporter of our efforts, reaching out to the legislators from the North Shore, testifying before the Joint Commitee on Housing and offering valuable counsel. Support from the independent living centers can represent the interests of people living with disability and help to convince legislators of the value of S1984.
New Online Resource
Publia, our Research Associate, has assembled a select introductory list on bullying. http://stopbullyingcoalition.org/links00
Summary of the provisions of SB732 on bullying. (2)
SB732 Modifies  numerous provisions relating to public safety. It includes a definition  of  bullying of elderly or disabled persons, creates a mandate to require  making  a report of suspected bullying to the Missouri Department of Health and Senior Services, Division of Senior and Disability Services, lists specific  professions  and  roles  that  are  mandated  reporters,  and  sets penalties for a failure to report in a timely fashion. Reports are to be made to  the Missouri Department of Health and Senior Services, Division of Senior and  Disability  Services.  An  abuse hotline is open from 12AM to 7PM daily. Failure  to  report  is  a  class A misdemeanor. Any other person who becomes aware  of  circumstances that may reasonably be expected to be the result of, or  result  in,  abuse or neglect of a person sixty years of age or older may report to the department.
Abuse, Bullying and Eligibility are defined:
"Abuse",  the  infliction  of  physical,  sexual, or emotional injury or harm including  financial  exploitation  by  any  person, firm, or corporation and bullying;
"Bullying",  intimidation  or  harassment  that causes a reasonable person to fear  for  his or her physical safety or property and may consist of physical actions  including  gestures;  cyberbullying;  oral, electronic,  or written communication; and any threat of retaliation for reporting of such acts;
"Eligible  adult",  a  person  sixty  years  of age or older who is unable to protect  his  or  her  own interests or adequately perform or obtain services which are necessary to meet his or her essential human needs or an adult with a  disability,  as  defined in section 192.2005, between the ages of eighteen and  fifty-nine  who  is  unable  to  protect his  or  her  own interests or adequately  perform or obtain services which are necessary to meet his or her essential human needs;
(2) Missouri SENATE BILL NO. 732, 98TH GENERAL ASSEMBLY, 2016 http://www.senate.mo.gov/16info/pdf-bill/tat/SB732.pdf