Togethering
Togethering is a Sponsor of the Stop Bullying Coalition
Consulting, Training, Publishing
---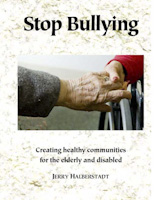 ---
Halberstadt, Jerry, Stop Bullying: We Can Create Healthy Communities for the Elderly and Disabled. (Peabody MA: Togethering Press, 2018)
Ask for review copies and free copies for advocates.
---
Alone, each of us is weak and powerless. Together, we are strong and powerful. We invite you to join us on the road to inclusion and respect for all. Here's how to join our march:
  * Sign up for our free newsletter
  * Tell us your story
  * Tell us what you can do to be part of the solution 
Thank you for what you do.