COVID Transmission in Essex County and Peabody, Massachusetts
September 29, 2022. Information about transmission and ongoing current infections in Essex County and Peabody, Massachusetts. Links to data sources enable the reader to learn the situation in their locality. The sources used are the CDC data on transmission; levels of COVID found in wastewater; and % positivity in Essex County and Peabody. These are all leading indicators preceding cases, hospitalizations, and deaths.
For information about strategies for protecting yourself and your community, see: The New "How to Avoid COVID"
Community Transmission in Essex is High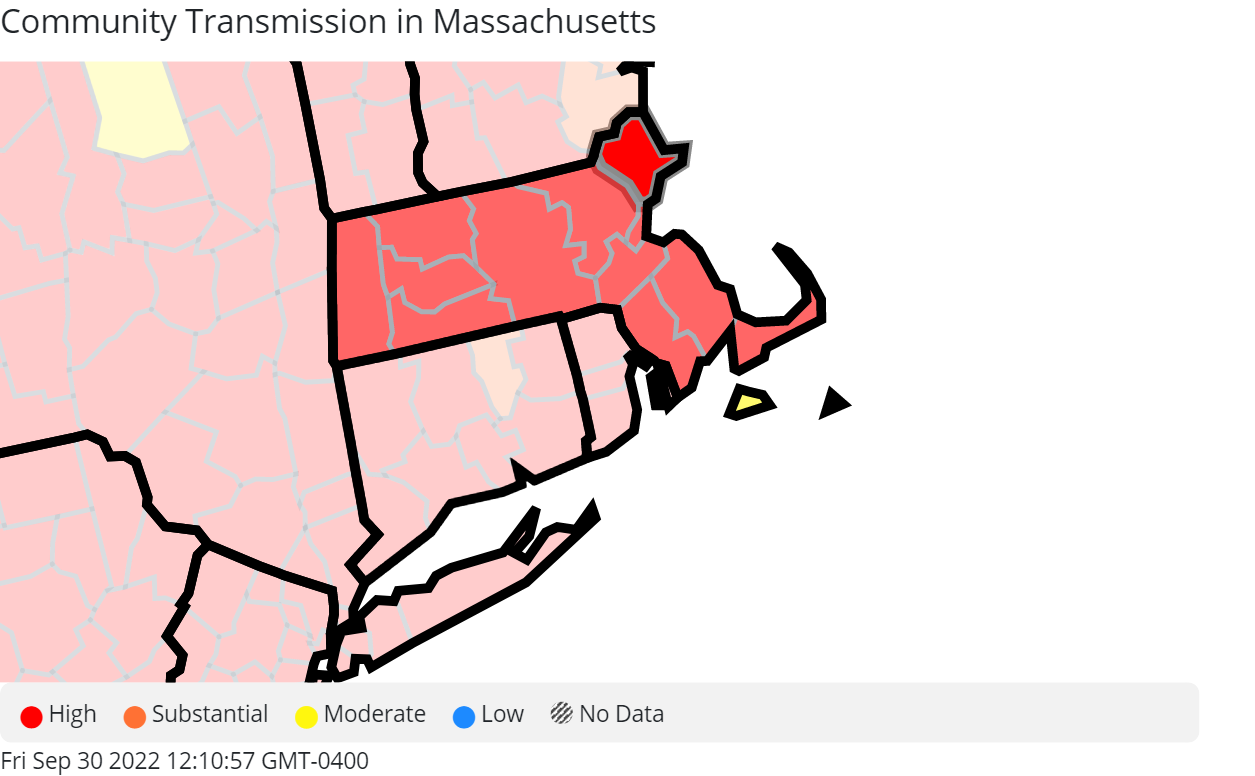 ---
Current 7-days is Thu Sep 22 2022 - Wed Sep 28 2022 for case rate and Tue Sep 20 2022 - Mon Sep 26 2022 for percent positivity. 
Source of map: 
https://covid.cdc.gov/covid-data-tracker/#county-view?list_select_state…
---
UPDATE FOR PEABODY & ESSEX COUNTY on September 22, 2022
Reported on:  9/22/2022
Period:   9/11/2022 to 9/24/2022
Peabody 14-day Percent Positivity: 7.97% down from 8.9%
Essex County 14-day Percent Positivity: 7.59% down from 7.65% 
Biobot wastewater counts for Peabody & Salem @ the South Essex Sewage District: Latest report, Peabody & Salem September 26, ~1,200 up from ~700 count viral RNA/mL. Source: Peabody graph. Samples are currently taken 1 - 7 times a week and analyzed by Biobot Analytics, a wastewater epidemiology company based in Cambridge, MA. The graphs represent the "7-day averages" which are the average viral copies over the past 7 days in each treatment plant. 
NOTE: NEW VARIANTS BA4 & BA5 ARE ALMOST LIKE A NEW DISEASE, ABLE TO SLIP THROUGH IMMUNE DEFENSES, AND ARE SPREADING RAPIDLY. TAKE CARE!
---
Leading Indicators of COVID in the Community
Massachusetts Department of Public Health, COVID-19 Dashboard, Weekly Data by City and Town This is the source for positivity data cited in this paper.
---
"Recent research [not yet peer-reviewed, and thus should not be relied on] shows that previous infection with an older variant (such as Alpha, Beta or Delta) offers some protection against reinfection with BA.4 or BA.5, and that a prior Omicron infection is substantially more effective."—nature doi: https://doi.org/10.1038/d41586-022-01950-2